Single-Minded Entrepreneur: Karen Allen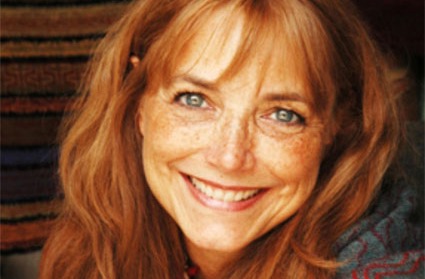 Actress Karen Allen has had an action-packed career—literally. She starred with Harrison Ford in "Raiders of the Lost Ark" and other films in the legendary series.
Although Allen is perhaps best known as Indy's love interest, her many films include the lead role, opposite Jeff Bridges, in "Starman," and the lead, opposite Bill Murray, in "Scrooged." She has also worked in television, and has theatre acting, including a starring role on Broadway, among her credits.
Today, Karen Allen continues to act, but she is also actively involved in a business she founded, Karen Allen Fiber Arts, a New England-based company that designs and makes knitwear.
SingleMindedWomen.com asked Allen about her career path, and her decision to become a single-woman business owner.
Here's what Karen Allen told SMW.
SMW: You've enjoyed a highly successful career as an actress, and yet opted to found a company based on an earlier passion, fiber arts. Your biography indicates you attended the Fashion Institute of Technology (FIT), where you studied art and design, and that you're a lifelong knitter. You've also said this work is your first love. But was there a so-called aha moment that led you to start a business?
KA: Yes. I was living in New York City in 2002 as a single parent to my 8-year-old son. He had reached an age where the traveling involved in filmmaking, and the hours involved in acting in the theatre in New York, no longer made sense in terms of being the parent I needed and wanted to be for him. When he was in kindergarten, it was not so much an issue if we were on a film location for several months, but as a fourth grader it was stressful to pull him out of school and out of his life. I felt I had to make some important decisions about how we were going to live the next phase of our lives until he finished high school. I wanted to choose something to do that was as much of a passion and creative endeavor as acting had been for me for the past 20 years, but something where I was more in control of my day to day life.
After a period of soul searching it became clear that to return to design, and particularly to knitwear, was the thing that most excited and motivated me. I returned to FIT while I was still living in NYC and studied machine knitting technology with a wonderful teacher there, Marian Grealish. I bought several machines and we returned to a home in the Berkshires in western Massachusetts, where we had lived when my son was born. There was an outbuilding there on the property and I set up a design studio. I spent a year experimenting with the machines to see if I could do something with them that would be unique and satisfying artistically and that I thought could work as a business venture. It was all quite seat of the pants. I had no real experience in the area of manufacturing or distribution. Fortunately, I had a few friends that did, and they were generous in sharing their experience with me, which was extremely helpful.
SMW: How much did personal circumstances, including being a single woman and a single mother, figure into your decision to launch Karen Allen Fiber Arts?
KA: It was a very important factor. I wanted to do something with my life that would allow me to also have the time to be a parent. As a single parent, the acting profession was not going to give me that freedom.
SMW: What has been the most difficult part of being a business owner?
KA: The number of hats I have had to wear on a day to day basis. It's always a juggling act. I design and knit many of the garments myself. I choose and order the yarns and receive the yarn shipments into the studio. I make contact with stores to promote and sell my line. I pack and ship these orders myself. I have had to learn to repair the knitting machines myself since there is no one who knows how to do that in the area where I live. I outsource some of the sweaters now and I am in contact with the people who knit for me. I place orders, send them the yarn needed, and receive the shipments when they're complete, and do much of the finishing work on them. I chose to open my own store as a way to sell my knitwear line and there are many tasks involved in looking after my employees and the merchandise that I buy for the store from other designers. I have challenged myself to deal with the accounting and bill paying and running of the business aspect of both the store and the studio myself, because I feel I need to learn and take full responsibility for understanding these aspects of running my business. I've been surprised by a true interest that has grown in me to take charge of the business aspects.
Running a small business is one of the most challenging things I have ever done. It can start to take over your life and what has been the most challenging aspect is for me to learn to find the balance. I'd never been my own boss before, and in the beginning I wanted so much for the business to succeed that other than spending time with my son, I was working around the clock on one aspect or another of the business. I have begun to feel now after six years that I am coming to a better sense of balance in these ways.