Cooking School 101: Homemade Tomato Sauce
Tomato sauce is one of those things that you think you have to be Italian and an 80 year old grandmother to perfect. But that is simply not the case, especially when we are at the peak of tomato season right now!
There are three ways to make your tomato sauce this summer: uncooked, barely cooked, and fully cooked. The fully cooked variety is the long simmering one that is most commonly associated with grandmothers and full days spent stirring over a hot stove. The result of such dedication is a full  rich sauce that has depth and complex flavor. This is great cold weather sauce, perfect for cozy Sunday night dinners.
Barely cooked sauces have a fresher and lighter flavor. Yes, the tomatoes are broken down, but they still have a hint of sweet flavor. I think this is the perfect transition sauce for the fall and spring season because it is still homey but not as heavy.
And perfect for the summer is the uncooked sauce which consists of ripe summer tomatoes that are simply seeded and chopped finely before being dressed with herbs and olive oil.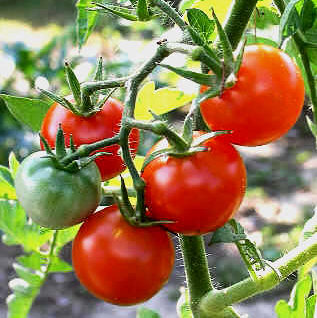 Whichever sauce you choose, make sure to buy the best tomatoes you can. In the winter, when tomatoes are not in season, choose a good quality canned WHOLE PEELED tomato. Not a sauce, not a puree, not a crushed tomato. Get a whole tomato and follow the recipe the same way. Or, better yet, make all the recipes in the summer with fresh tomatoes and freeze or can them for consumption in the winter.
Raw Tomato Sauce
Makes 6 servings
2 pounds vine ripened tomatoes
2 cloves of garlic, minced
1 shallot, minced
1 cup of fresh basil, chopped
salt
freshy ground black pepper
crushed red pepper
1/2 cup of extra virgin olive oil
Seed and chop the tomatoes into bit size chunks. Add them to a large bowl with the garlic, shallot, basil, olive oil and mix well.  Add salt and peppers to taste. Let the mixture stand at room temperature with a tea towel or paper plate covering the bowl for at least 1 hour, up to 3. What you will find is a luscious sauce that is perfect over al dente pasta or on top of crisp slices of bread. For extra flavor, grate Parmegiano Reggiano cheese on top of your dish when serving.
Barely Cooked Tomato Sauce
Makes 6 servings
6 vine ripened tomatoes
1/4 cup extra virgin olive oil
2 small onions, minced
2 cloves of garlic, minced
2 shallots, minced
1/4 cup of white wine
salt and pepper to taste
Seed and chop the tomatoes into bite size chunks. Heat oil in a large saucepan over medium heat. Add onions, garlic, shallots and cook for 2 minutes. Add tomatoes and cook for another 2-3 minutes.  Add the wine, salt and pepper. If you like a spicier sauce, add a pinch of red pepper flakes at this point.  Simmer covered until the tomatoes start to break down and release their juices, about 30 minutes.
Serve over pasta.
Grandma Style Tomato Sauce
Makes 6 servings
10 vine ripened tomatoes
1/4 cup of olive oil
1 large onion, chopped
2 stalks of celery
1 large carrot
2 cloves of garlic
2 shallots
1/2 cup of chopped fresh basil
1/4 teaspoon dried Oregano
1/4 cup of good red wine
2 tablespoons of tomato paste
1 dried bay leaf
Boil a large pot of water. When the water is rolling, turn the heat off and gently add in the tomatoes. Keep an eye on them, and when you see the skin start to blister, fish them out with a strainer. Carefully peel the skins off the tomatoes and gently squeeze out the seeds. Chop and set aside.
In a large heavy duty pot, heat oil over medium heat. Add onion. Using a grater, grate the celery into the pot. Repeat with the carrot, garlic and shallots. Stir with a wooden spoon to incorporate. Let cook together for 2 minutes.  Add half of the tomatoes and using a potato masher, mash the tomatoes well. Stir and cook for 5 minutes. Add the rest of the tomatoes, tomato paste, herbs and the wine. Bring to a boil and then reduce the heat to low. Cover and simmer for 4 hours, stirring occasionally. Discard bay leaf before serving.