Cooking School: Perfecting the Perfect Pizza Dough
Seriously, who doesn't like pizza? It's not only the official food of kids everywhere, but this past year pizza has gone gourmet, showing up on restaurant menus everywhere in various incarnations from the traditional sauce-n-cheese variety to breakfast pizzas made with sausage and eggs. Dessert pizza, topped with things like nutella, nuts, and powdered sugar have even become popular.
Even though pizza is experiencing a revolution, what remains the same is our fondness for the dough. Sure people are adding interesting things to their dough, like fancy imported flour or cornmeal, but the principal and technique behind making the dough is the same. And once you master the basic dough recipe, you can get creative and experiment with different kinds, too.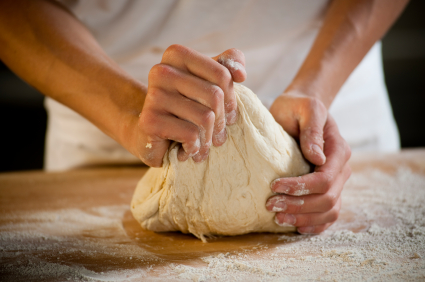 Since pizza dough is made with yeast and requires a bit of rising time, there should be some planning involved. I like to make a batch in the afternoon on weekends and let it rise while I run errands or do chores, so that when guests arrive, all I have to do it roll it, top it and cook it. And more often than not, my guests like to get in on the topping action
This recipe makes enough dough for two 12-inch pizzas. Make both or freeze one for another time.
Ingredients
1 ¼ cup of warm water
1 tsp salt
Olive oil
3-4 cups of sifted flour
2 packages of dry yeast
To the warm water, add the yeast and stir gently until the yeast dissolves. Let sit.
Add 3 cups of flour to a stand mixer. Pour the yeast and water mixture into the middle of the flour and using the dough hook, slowly mix it until it starts to come together. Pay attention to the dough – does it appear sticky? If so, add some more flour by the ¼ cup full and continue to blend. The dough is ready when it forms a ball around the machine and is smooth. This should take about 7-10 minutes.
Remove the dough and turn it out on to a lightly floured surface and knead by hand for 10 minutes. Place it in a deep bowl that has been greased with olive oil and cover with a dishtowel or plastic wrap. Keep it in a warm dark place until it doubles in size, about 45 minutes.
After it has risen, punch the dough down, turn it out again onto the surface and knead it for a few minutes. Divide it into two even portions. Let it rest for about 10 minutes. Meanwhile, preheat your oven to 500 degrees.
Once the dough is rested, using a rolling pin, roll it out to your desired thickness and place on an oiled pizza pan or cookie sheet. Add whatever toppings you like. Repeat with the second portion of dough.
Cook on the bottom rack of your oven for 5 minutes. Then transfer the pans to the middle rack and continue to cook for another 6-7 minutes.