Recipes for National Peanut Butter and Jelly Day
Here's a holiday you and your kids can get on board with (one that won't break that bank, that is). April 2nd is National Peanut Butter and Jelly Day. Did you know that 52 percent of Americans choose creamy over crunchy peanut butter? And 60 percent like their PB&J untoasted. Another fun fact: It takes about 540 peanuts to make a 12-ounce jar of peanut butter.
Sure you can go ahead and make a sandwich and end it at that, but why not take it a step further and turn everyone's favorite lunch into something gourmet!
Moran's Chelsea (146 10th Avenue, New York, NY 10011 212-627-3030 www.moransrestaurant.com) is celebrating with two special PB&J-inspired dishes for $12. The much-loved creamy spread has earned its very own month amongst Americans and Moran's will honor that with two distinct and delicious specials available exclusively during the month of March, Peanut Butter & Fig Ravioli and PB&J Flautas with fried ice cream. The peanut butter-inspired recipes are as follows:
Peanut Butter & Fig Ravioli
2 sheets of ravioli or wonton wrappers
2 cups of crunchy peanut butter
1 cup of fig preserves
Grated ginger to taste
Grated nutmeg to taste
• Mix all ingredients in a bowl and chill
• When read to prepare, cook in boiling water for 4 minutes
• Make raspberry sauce (recipe available)
• Make Vanilla Bean Crème Anglaise (recipe available)
• Make chocolate sauce (recipe available)
• To Plate: place raspberry sauce, crème anglaise and chocolate sauce on plate and swirl around on the plate; place 2 raviolis in the center; place scoop of vanilla ice cream; shave chocolate over plate for garnish; grate fresh cinnamon over the ice cream.
PB&J Flauta with Fried Ice Cream
1 medium flour tortilla
2 tablespoons chunky peanut butter
1 tablespoon raspberry preserves or any jelly/jam
1 banana, peeled
• Place tortilla on a sauté pan and heat both sides until warm
• Spread 2 tablespoons peanut butter on tortilla
• Add 1 tablespoon raspberry preserve to tortilla
• Place the banana near the edge of the tortilla and fold up the ends
• Place toothpicks through tortilla to secure the wrap
• Fry the tortilla until crispy at 350 degrees for about 5 minutes
• Garnish with chocolate sauce and confectioners sugar
• Serve with fried ice cream (recipe also available)
Peanut Butter and Jelly Bread
Good Cook has incorporated peanut butter and jelly into the batter of a quick bread, which gets topped with even more peanut butter in a glaze. The recipe keeps all the hallmarks of the classic so that each slice tastes like the sandwich.
Ingredients:
1 cup peanut butter
4 tablespoons butter, softened
2 eggs
¾ cup sugar
½ teaspoon baking powder
½ teaspoon salt
1 cup flour
1 teaspoon vanilla
2 tablespoons milk
½ teaspoon cinnamon
½ cup jam
1 tablespoon peanut butter
1 tablespoon butter, softened
1 cup powdered sugar
1 tablespoon milk
Directions: Preheat oven to 350 degrees Fahrenheit. In a large bowl, beat together the peanut butter, butter, eggs, and sugar with an electric mixer until smooth. Add the baking powder, salt, flour, vanilla, and cinnamon to the batter and combine until well mixed.
Spoon half of the batter into an 8-inch-by-4-inch loaf pan that has been lightly coated with nonstick baking spray. Use a spoon to spread a ribbon of jam down the center of the batter, then top with the remaining batter. Transfer to preheated oven; bake for 40-50 minutes, or until the center of the bread springs back to the touch.
While bread is baking, prepare the glaze drizzle by whisking together the peanut butter, butter, powdered sugar, and milk. Microwave slightly if needed before drizzling over warm bread. Allow to cool before slicing the bread and serving.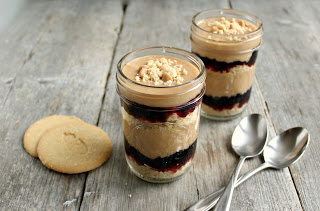 This peanut butter and jelly parfait recipe will fill about two Mason jars (Hungry Couple / Facebook).
Peanut Butter and Jelly Parfaits:
Have you ever tried dessert in a jar? No? Well, I suggest you try this simple peanut butter and jelly parfait recipe, as it will get you hooked. All you need are shortbread cookies, jam, water, peanut butter, cream cheese, powdered sugar, milk, peanut butter chips and salt. If you're not too into shortbread cookies, feel free to substitute them with any other butter cookie or with graham crackers! It's your parfait; so add what you please. I'm sure the recipe would also taste great with granola!