In the Kitchen with Tanya Zuckerbrot's F-Factor Diet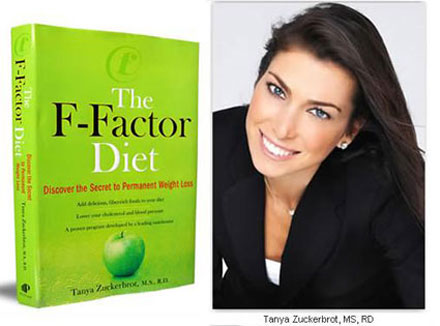 How much would you pay for one pill that does it all – makes you thin, fit, and healthy?
Don't get out the checkbook, because it doesn't exist. But Tanya Zuckerbrot is a nutritionist  who believes that you can achieve a fitter, healthier you just by stepping into the kitchen.
One of the joys cooking brings Tanya is knowledge. The  knowledge that  she's in control – that she can feel good about every bite that goes into my mouth.  Can't say that about something that comes in a box, can you? Of course, home cooking is healthier. And Tanya believes it can be  tastier and more economical than buying frozen dinners which are packed with sodium and other additives.  But she does more than cook.
She is the creator of The F-Factor Diet, an innovative nutritional program she has used for over ten years in her private practice.  Her book The F-Factor Diet: Discover the Secret to Permanent Weight Loss (Putnum, 2006) debuted in January 2007 and has been a hit ever since, leading to the launch of skinnyandthecity.com, Tanya's lifestyle website dedicated to healthy living and providing diet and nutrition information along with the latest beauty and fashion news. Tanya founded Skinny And The City as an online resource encouraging women to change their lives without changing their lifestyle.
Wanna look like Miss Universe? Tanya is your girl. In 2008, the Miss Universe Organization appointed Tanya its official dietitan; she works one-on-one with the title holders, Miss Universe, Miss USA and Miss Teen USA, to enhance their overall health and well being. And a lot of that has to do with cooking.
Tanya regularly appears on The Today Show, Extra, and The Mike and Juliet Show (FOX), and has made guest expert appearances on The Rachael Ray Show, MSNBC, ABC News, Good Morning America Health, CBS's The Early Show, The Food Network to name a few. Her weekly blog "Tanya's Tasty Tips," appears on FoxNews.com and she also advises patients of Manhattan cardiologists affiliated with Mount Sinai, Lenox Hill, and New York Presbyterian hospitals.
If anyone can inspire you to put down the take out menu and start chopping, it's Tanya.
In your opinion, what is the meaning of food?
Of course food nourishes our body and can provide us with energy and nutrients. But food is so much more than that.  Food is part of every aspect of our lives and are often tied to our emotions—certain people eat more when they are happy while others turn to food for comfort when they are sad.   Food and are often the highlight of celebrations, vacations and holidays and can serve as a connection from one generation to the next.  Whenever I make my grandmother's cookies, I instantly feel connected to her.
What is your first food memory?
I always loved cooking and baking with my mom and grandma. One of the first dishes I remember being taught to make was my grandmother's sweet and sour stuffed cabbage.  Ha- my love of fiber and protein started earlier than I realized!
How did you come to realize that food and nutrition were your calling?
I grew up in the kitchen, always cooking alongside my mother and grandmother.  The kitchen was always my favorite place in the home.  So after gaining the "freshman fifteen," it was no surprise that I would buy a low-fat cookbook and experiment in the kitchen. I lost 15 pounds simply by dining on the delicious, healthy recipes I prepared.
It was then that I realized that the food you ate had a profound impact on not just how you look but also how you feel. I always knew I wanted a career that involved helping others. Choosing the field of nutrition has allowed me to marry my passion of food and cooking in a healthy way. I love educating clients on how eating properly can be delicious while still being nutritious.
What is Skinny and the City.com?
SkinnyAndTheCity.com is an online resource for women who want to look fabulous and feel their best.  I have assembled a team of experts in the fields of nutrition, fashion, beauty and lifestyle and brought them all together on one website to offer the most on-trend, up-to-the-minute, relevant information on the market today.  Every day subscribers receive a FREE newsletter covering topics from: Nutrition tips and advice, healthy recipes make-overs, fashion and beauty reports, Restaurant Guide and our "Skinny Picks" so you can dine out without sabotaging your waistline.
You answer reader questions about gaining weight the healthy way, losing weight the healthy way, etc. What is the one piece of advice that works for all women eager to eat healthier?
When it comes to improving your health and weight, nothing works better than incorporating more fiber into your diet.  Fiber fills you up without filling you out and helps to eliminate hunger pangs associated with dieting. Fiber's benefits go well beyond weight management. Studies have shown that diets high in fiber reduce the risk factors for cardiovascular disease, adult onset diabetes, hypertension and certain forms of cancer including breast and colon cancer. Adding fiber to your diet is a simple and delicious way of increasing your chances for longevity.
Is eating out OK?
The F-Factor Diet was initially developed to suit the lifestyles of my Manhattan clients who work hard and play hard, with little time for preparing a home cooked meal.  My patients often dined out not only for dinner, but often breakfast meeting and lunches as well. I knew that for the program to work, it had to fit into their lifestyles. Who wants to sit home with a frozen diet dinner when all your girlfriends are at a restaurant?  So from day 1, I teach my clients how to make good choices no matter where they are.  Whether you are dining out on French fare or Chinese, it is possible to eat out without sabotaging your waistline.  The reason I launched SkinnyAndTheCity.com was because I wanted to share this information with women across the country.
How do you go about ordering in a restaurant, or advising your clients about restaurant ordering?
I always recommend to clients to begin their meal with soup or salad. Clear broth-based soups (miso, minestrone, chicken vegetable) and salads with the dressing on the side are low calorie options.  Start off with these and you'll be less likely to be caught digging into the bread basket or the fried appetizers on the table.
In addition, filling up on these starters will make you less likely to overeat your entrée which is usually where most of the the meal's calories lurk.  When it comes to your entrée, look for key words such as grilled, broiled, steamed, or roasted, which will have fewer calories and fat than pan seared or fried options.  Skip the starch and order a double portion of vegetables.
Also, eliminate high-fat sauces and dresses, or order them on the side and use sparingly; it doesn't hurt to request little or no oil be used in the cooking process.   And when it comes to dessert, stick to the three-bite rule.  Studies show that people always rate the first and last bites as the best. Three bites give you a first, middle and last, which is all you need to appreciate a dessert completely.  Also feel free to order a cup or tea or coffee to help satisfy your sweet tooth at the meal's end.
What are your favorite cookbooks?
I have close to a hundred cookbooks so choosing favorites is difficult! My first cookbook was the Joy of Cooking, so for reasons of nostalgia, I'll name that one first.  Other favorites include: Fish: The Complete Guide to Buying and Cooking by Mark Bittman, Jacques Pepin Simple and Healthy Cooking by Jacques Pepin, and of course, I am a fan of my own book, The F-Factor Diet, which contains over 75 simple and delicious recipes that I personally created!
What are some tips for quick cooking at home that you can give to working women cooking for their families? For women cooking for one?
Cook once—eat often! In today's hectic society, many women are challenged for time. Between working, picking up and dropping off the kids, errands and cleaning there is very little time left for healthy meal preparation.
On Sundays, when I have more down time than I do during the hectic work week, I try and cook something I know I can eat at least once during the week such a a large chopped salad, soup, or turkey meatballs in tomato sauce. One of the reasons I enjoy cooking is because I can control exactly what is going into my food: fresh, fiber rich foods, lean proteins and minimal amounts of added fat.
Possibly, the key ingredient of cooking for one is the planning. Before you go to the grocery store make a list of all that you will need for the week. Plan meals that will re-use ingredients. And be creative so you aren't disappointed with a boring meal. Pour yourself a glass of wine, relax and enjoy your time in the kitchen.
When is a frozen/canned/packaged ingredient okay?
Not only are those okay, but sometimes they are better than buying things fresh. For example due to the fact that frozen fruits and vegetables are flash frozen at the peak of ripeness, studies show that frozen fruits and vegetables can contain more vitamins and nutrients than their fresh counterparts. Also, buying frozen bags allows you to eat them when you want. You don't have to worry about spoilage and wasting money, like you usually do when fruits or veggies have gone bad before you've had a chance to eat them.
Likewise canned or packaged goods are also an economically wise choice because they have a long shelf life and are great to take in the car, leave at the office or send with your children for snack. Just like with frozen foods, the vital minerals and nutrients present in canned fruits and vegetables are retained during the canning process so they are also a great alternative to fresh ones.  Just remember to read the nutrition labels of everything you buy.
What is your favorite eat alone meal to make for yourself?
My favorite alone meal has to be homemade Bolognese sauce over whole wheat pasta with a glass of red wine. Bliss.
Go to page 2 for Tanya Zuckerbrot's Healthy Comfort Food Meatloaf and Mashed Potatoes recipes.