The Sexually Healthy Single Woman
For decades now, Dr. Carol Queen (she has a PhD in sexology) has been an activist, writer, speaker, and educator on All Things Sex, including having a healthy sex life. Her explicit fiction, memoirs, essays, and videos have garnered a worldwide audience of regular folks who want to know and enjoy more about sex than most of us wind up learning from the usual sources.
Let's face it – it's not uncommon for single-minded women to wind up in a position (or two, or three) to learn just a few more variations on the norm when it comes to sexuality and lifestyle. But taking full advantage of the wider world of sex can be scary. So I wanted to know what Carol Queen's take is on having a healthy and fulfilling sex life as a single woman. By the way, Carol's partner, Dr. Robert Lawrence, has been a collaborator with her on several projects, including the formation of their non-profit educational and support resource, the Center for Sex and Culture.
SMW: For the purpose of this article, let's use the term multiple sex partners to mean having, in the same span of time, more than one relationship that involves sexual intimacy — unless you have another definition that works better?
Dr. Queen: No, I think that's terrific; in my mind it can encompass both someone who identifies as polyamorous, and also much more casual involvements.
SMW: First, should we assume that single women want and have multiple sex partners?
Dr. Queen: I think we should assume that some single women do, certainly. Some unpartnered women are "waiting for the right one"; these women may or may not include more casual sexual connections in their lives while they search for Mr. or Ms. Right.
And others are not interested in, or at least are not actively searching for, a primary partner, and many of these women do want sexual pleasure and intimacy in their lives and incorporate it via affairs, "friends-with-benefits" situations (what gay men call "f*buddies"), sex parties, and pick-up or other casual meetings. These days it's easier than ever to find casual play situations thanks to the internet, at least in cities, and I'm sure that small town bars see as much Saturday night action as they ever did.
SMW: Let's talk about the basic health benefits of sex in general, whether with one or more partners. Are there any known or possible detriments from sexual dysfunction or lack of sexual experiences?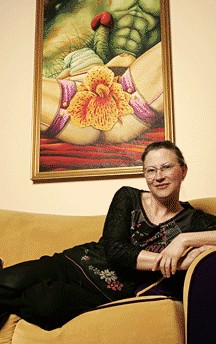 Dr. Queen: Sex with an ongoing partner or with more casual partners will have many of the same benefits: best-case, it can
make a woman feel engaged with her eroticism and physicality;
give her access to sensual touch pleasure and orgasm; and
allow her to explore her sexuality and her various desires.
Sometimes multiple partnerships are a plus this way, since some ongoing partners are not evenly matched vis-a-vis their desire to explore different types of erotic play. A single or multiply-partnered woman can look for that kind of compatibility and not subsume it into a "Well, but we get along so well in other respects" kind of relationship.
Sexual pleasure relieves stress, keeps the genitals healthy (as long as it's done in a context of awareness and safety), and helps maintain a woman's ability to become aroused and orgasm; specifically, it's good for genital circulation.
Not engaging in sex (including masturbation) for periods of time, especially as a woman enters her perimenopausal years, may mean she'll have some difficulty re-entering a sexually active state. We see this pretty frequently with divorced or widowed women who may also have developed body image issues.
The simple way of talking about this is "Use it or lose it," though that implies a certain amount of pressure to stay active that I don't like. Basically, a woman shouldn't have sex because she thinks she should, but because she wants to. But staying engaged in appropriate-for-her relationships can facilitate her continuing to want to.
SMW: What would be the benefits and disadvantages, if any, of having multiple sex partners from a single woman's perspective?
Dr. Queen: Disadvantages: Depending on her situation, she might not find she gets enough ongoing intimacy from more casual lovers than she might from a primary partner. (Of course, just because a partner is primary is no guarantee a woman will get what she wants and needs from that partner.)
It's possible to come into contact with more sexually transmitted conditions — and common cold germs, for that matter — when you have multiple partners (though if you're monogamous with someone with an STD, you're in the same boat; monogamy is not a condom.)
A woman might find the right balance of freedom and connection difficult to achieve — without a primary partner you may not be guaranteed a date on New Year's, for instance. So this lifestyle (as a chosen and satisfying one) requires some independence and a not-too-starry-eyed view of romance and relationships… as well as a good sense of intuition, to ward off the creeps.
Also, as with any busy life, it's possible to become seriously overbooked! Your calendar is a friend and a foe when trying to balance multiple relationships, especially less casual ones which might include the expectation of joining more than one partner on significant days like holidays.
Advantages: With experience and skill, relationships can be put into a perspective that's right for a woman, especially one who's concentrating on career or who prefers not to get too involved with someone because she's still recuperating from a break-up or does not want to be too subsumed into a partner's life and priorities. It can be more possible to prioritize sex in a lifestyle like this.
Resources:  Center for Sex and Culture
More SingleMindedWomen.com Articles on Sex & Sexuality
How to Talk About Sex–with Him
Why You're NOT Having Sex—and 12 Things You Can Do About It