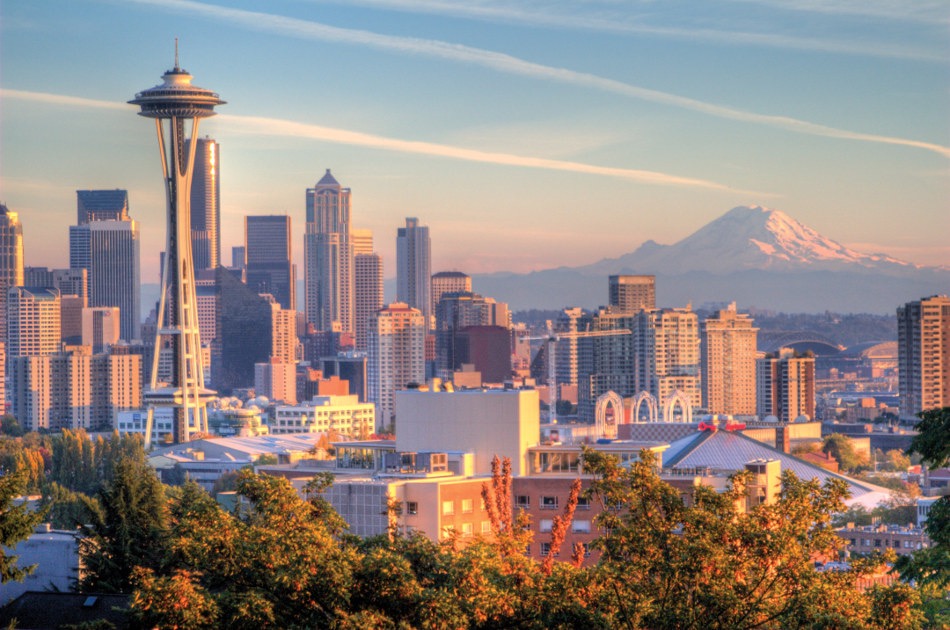 4) Seattle
If the Pacific Northwest beckons, Seattle may be calling.
Although the recession impacted the city's employment opportunities (unemployment was 9 percent at the time of our analysis), Seattle offers career potential for the long-term. Top industries include technology, which is poised for continued grow this decade, and biotech and medical equipment, two other high-growth fields. Aerospace is also big in this city known for the Space Needle restaurant and observation deck.
The view of Seattle from above and below offers much to behold, from the metropolitan skyline to Puget Sound, Lake Washington, and the Great Smoky Mountains. As a city, Seattle is both urban and untamed.
This duality is reflected in the city's culture. Seattle's history as a timber and gold rush town and as a seaport has always drawn those with a sense of adventure. In the 1980s, the city's unconventional spirit gave birth to grunge, the rock music movement that arguably defined rebellion for a generation.
Today, Seattle's music scene still thrives, as do the performing arts. In fact, there's no shortage of things to do in this city. Seattle's list of entertainment options includes pro sports teams, art museums, and more.
Outdoor recreation is at the top of the list of things to do in this city, where a healthy lifestyle matters. Hiking and climbing are favorite sports in Seattle—and in fact, even on rainy days you can get your fix. The city is home to the Pinnacle, one of the tallest, freestanding indoor climbing walls in the world, which can be found at outdoor gear, equipment and clothing maker REI's Yale Avenue location.
Dubbed the Emerald City in the 1980s, Seattle is so named because of the lush evergreen forests in the surrounding area. Today, however, green also applies to the mindset of residents, who take environmental responsibilities seriously. In Seattle, there are many opportunities to participate in group and community activities related to various green and environmental issues.
Seattle is 20 percent less expensive than New York, which allows a single woman to take in the scene, and sock away money for travel. From this city, it's easy to tour the country—or the world. Seattle-Tacoma International Airport (Sea-Tac Airport) is approximately 30 minutes from Seattle's downtown.
In comparison to the top three cities on our list, housing in Seattle is relatively inexpensive, (although other factors, including health care, drive up the overall cost of living), and there are numerous options. Seattle has condos, lofts, and traditional apartments, but there are also many single family homes. In this waterfront city, houseboats and floating homes are also an option. Ahoy, Seattle.
The ratio of women to men is almost equal in Seattle, and approximately 30 percent of the population is single. These factors, combined with career opportunities, a reasonable cost of living, and a lifestyle conducive to health, well-being, and individuality, make Seattle a best city for single women.